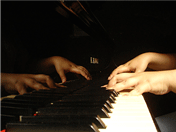 Matt Cullen - Film Composer - Original Music for Any Project
ASCAP Member
Thanks for visiting! I am currently working on an EP as well as some orchestral pieces. In May of 2012 I contributed music for a Military Channel / TruTV pilot featuring MMA legend Ken Shamrock (Ken Shamrock: Redemption). Also - a new episode of Gunn is in the works, so I'm looking forward to scoring that later this year. I'm always looking for new projects. If you're a filmmaker or lyricist looking for original music, please contact me and we can discuss your musical needs.
I also work on commercial jingles and commissioned works for any instrumentation.
Listen to samples of my music. The music section has excerpts from some of my scores for Children Left Behind, Bridging the Gap, A Child From China, Art In Hidden Places & GUNN.
Project Updates:
CHILDREN LEFT BEHIND is one of the 30 films selected to be shown at the American Psychological Association's Annual Convention in Toronto in August. Films produced by HBO, ABC, Miramax, Touchstone Pictures, PBS, National Film Board of Canada, Castle Rock Entertainment and the BBC will also be competing. The film has been showing in Boston and has received positive reactions, "A powerful documentary," "Moving and insightful," "A magnificent production... loved it!," "Extremely pertinent, well-produced, thought-provoking, and timely."
GUNN is a one-hour crime drama and is now being watched in many countries including: United States, Germany, Japan, Canada, Iraq, Italy, United Kingdom, Australia, Bulgaria, and more.

May 2012
Music for Military Channel/TruTV Pilot Episode of Ken Shamrock: Redemption
March 2011
Scored a Sizzle Reel for "
Women Aren't Funny
" Directed by Bonnie McFarlane: starring Chris Rock, Joan Rivers, Sarah Silverman, Rich Vos & more.
June 2010
"GUNN" Ep. 3 Premiere in San Jose, CA
November 2009
"November's New" Premieres
August 2009
"GUNN" Ep. 2 Premiere in San Jose, CA
August 2009
"Children Left Behind" showing @ the APA Convention in Toronto, ON